Welcome to the world of pregnancy! Dressing your bump has never been more chic and exciting – if you know the ins and outs. CARI maternity founder Sue Carter shares her advice on navigating modern pregnancy in style.
What you need to know…
Looking good in pregnancy is about working with your new proportions to create definition, and then achieving a perfect balance between comfort and fashion. Your new wardrobe can be both practical and stunningly stylish with just a few expert tips and tricks…
Slim-fit dresses. A dress that highlights the bump is perhaps the most iconic and modern pregnancy style – every mama-to-be needs one in her wardrobe. For form-fitting dresses (not necessarily bodycon – unless you are really loving your new derriere) that sculpt your figure, look for maternity dresses with side ruching, a detail designed uniquely to accommodate your growing belly or luxe ribbed knit dresses that will expand with you. You are unlikely to ever embrace the bodycon again in your adult life, so enjoy it…and you can always throw on an oversized blazer.
Create 'new' definition. You may not have a waist but you can still create more shape with clever features and outfits. Empire line dresses, over-the-bump skirts, cropped t-shirts over slip dresses are all stylish ways to create a lovely new definition.
V-necks and wider necklines are also very flattering, as showing a little skin can be very slimming for the upper body – wrap dresses look fabulous – but invest in good bras for your new cleavage. If you are favouring the oversized look, then always pair with slim bottoms – avoid unnecessary bulk and too much frill as they can overwhelm your shape..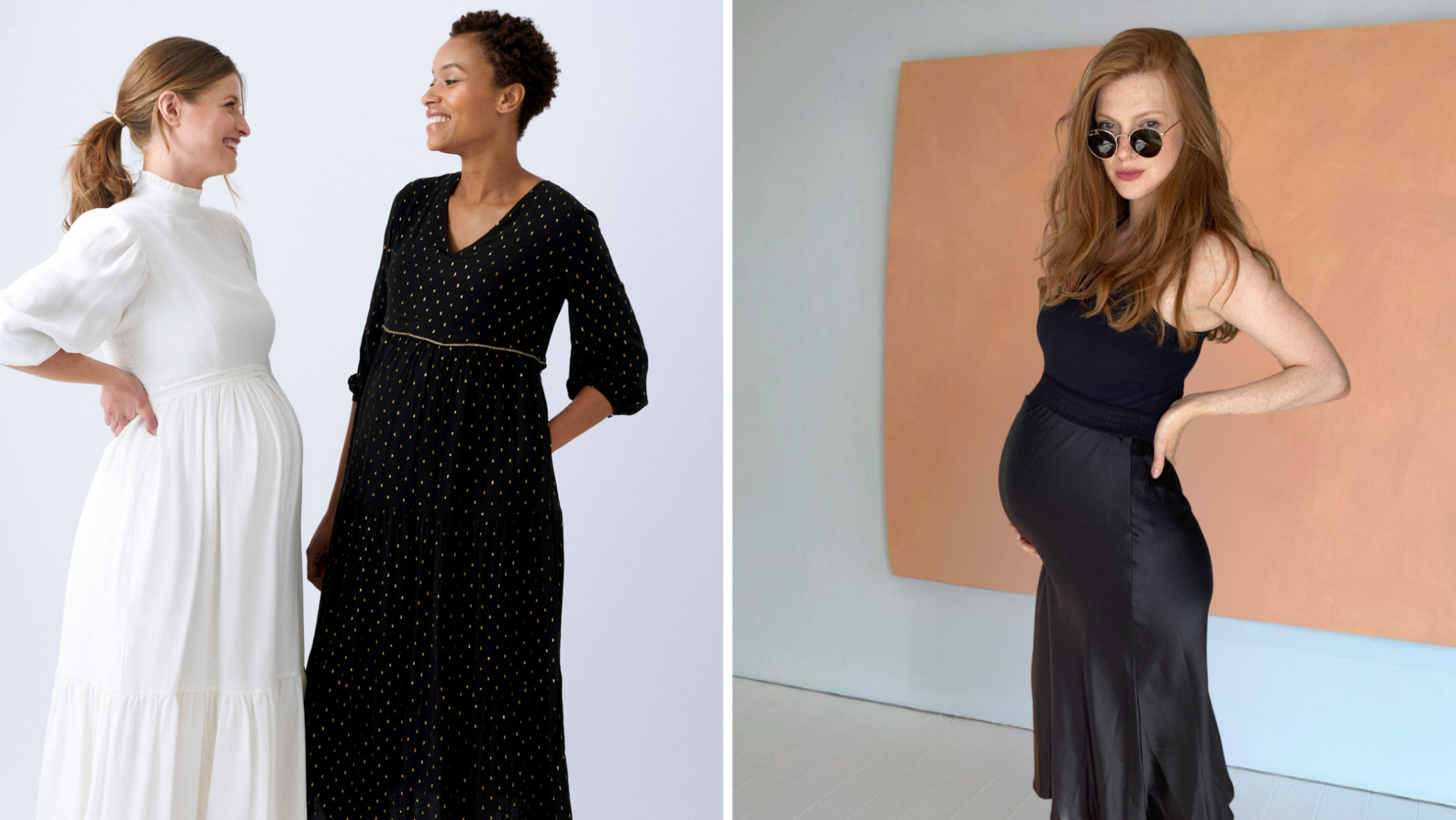 Plan, Prepare and Organise: Start searching for maternity staples and big events on your social calendar early. Embrace the certainty of office-wear essentials well in advance – chic black dress, tailored black trousers, and go-with-everything tops – to avoid morning stress and tears. Also, the more pregnancy advances, the less you will want to walk around shopping.
Flat Shoes – With Everything: Stylish and supportive flat shoes are your best friend during pregnancy – but they do change the vibe of outfits. Shoes with cushioned insoles and arch support provide maximum comfort.
Experiment. Your centre of gravity is shifting, and your fashion style does have to adjust…at least a little. It's not a bad thing, this just means being open to experimenting – if you try to hold fast to how you 'used to dress' then you are unlikely to really enjoy the experience.
And what to avoid…
The Second Trimester – the 'is she pregnant or eating too many cakes' phase – can lull you into a false sense that maybe you don't need maternity clothes. By the Third Trimester, everything has expanded, and you desperately need maternity clothes but with only a few weeks to go. If you are questioning whether it's worth it, remember you will likely still be wearing your pregnancy wardrobe for the Fourth Trimester…and longer.
Sizing up – it's a false economy. To fit a bump you probably need to go up two sizes, but excess fabric has a tendency to make you appear bigger and dresses falling off your shoulders can look a little sloppy and feel irritating. This will only look worse after pregnancy. Also, tying your jeans or trousers with a band – sure you can 'get away with it' – but it will not feel comfortable and likely the fabric isn't designed to stretch. Don't do it to yourself.
Wearing leggings everyday – nine months is a long time to spend feeling like you have lost your sense of style, and it's not so easy to regain in those first few months of motherhood. You only have a few months to indulge bump dressing, so don't miss this fun opportunity. You won't need that many pieces, as you will likely have quite a few pieces that are versatile enough to work through pregnancy, so make sure that what you do buy, you really love.
At CARI we believe pregnant women deserve to look and feel amazing, and our mission is to guide you through this new chapter in life with confidence. Visit the website at www.caricollection.ie for the full range of maternity and breastfeeding styles, or for more style inspiration and fabulous outfits then check out our Instagram or Pinterest boards.